Three weeks ago I arrived in New York City, this time we were going to stay there for two weeks. We stayed in Queens one of the boroughs. I have visited this borough before and I always had the wish to come back again. Now we got the opportunity to stay with a friend. I like this borough very much because it has so much variety, from very residential to large apartment buildings but also these typical wooden houses with a porch.
Also, like the rest of New York City, it is a mix of different cultures. I feel at home there. For me it was the third time I visited New York and every time I feel that I can breathe again. I know the way of living, and making a living in New York can be a struggle. But at the same time you are completely free in how you want to live your life.
Because the Manhattan Graphics Center gave me the opportunity of doing an artist talk they offered me a week of studio time in return. First I panicked a little bit; in New York you could walk for days just to find out how many layers this city really has; every day you discover new things or meet new people. So where do I start? What to draw about when everything is an inspiration?
To keep it simple I decided to use my daily life as an inspiration: to wake up in our friends house every morning. I saw the Virgin Mary in the garden on the other side of the street. Every morning I ordered a bagel cream cheese at a deli. Before I could really start a day I had to buy a coffee. After buying my coffee I walked to Bryant Park which became my living room/office/studio during those two weeks. Because that is what you need in New York: a place where you can return to every day and enjoy the things you have seen. So after spending some time in my living room it was time to do some printing at the MGC and to meet people. Just to end the day in Bryant Park again with a couple of drinks.
You see, I kept my life very simple during my stay and still there was a lot going on!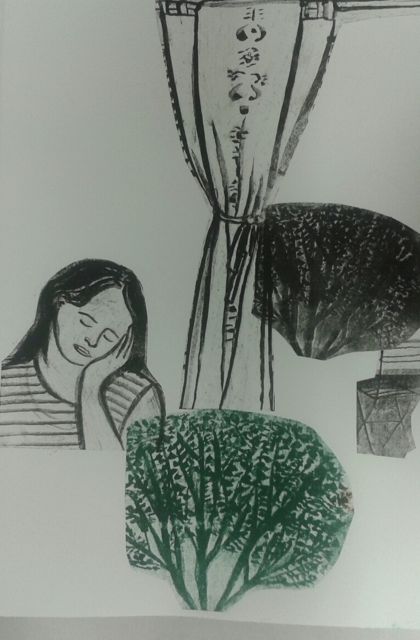 'I consider Bryant Park as my livingroom now', paper litho, 2014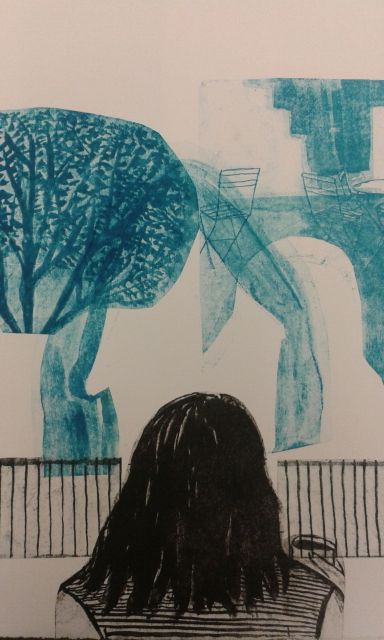 First I'll get my coffee in the morning, paper litho 2014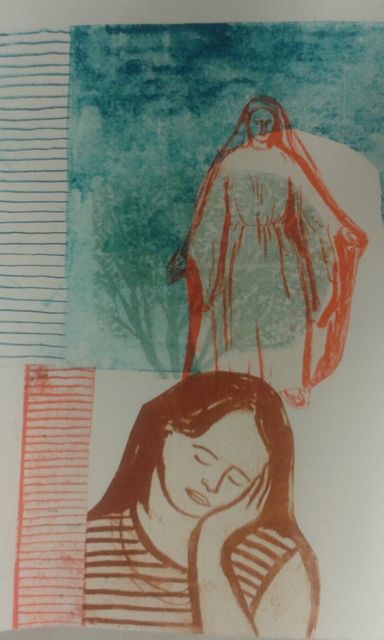 The Virgin Mary in the garden of the church, paper litho, 2014