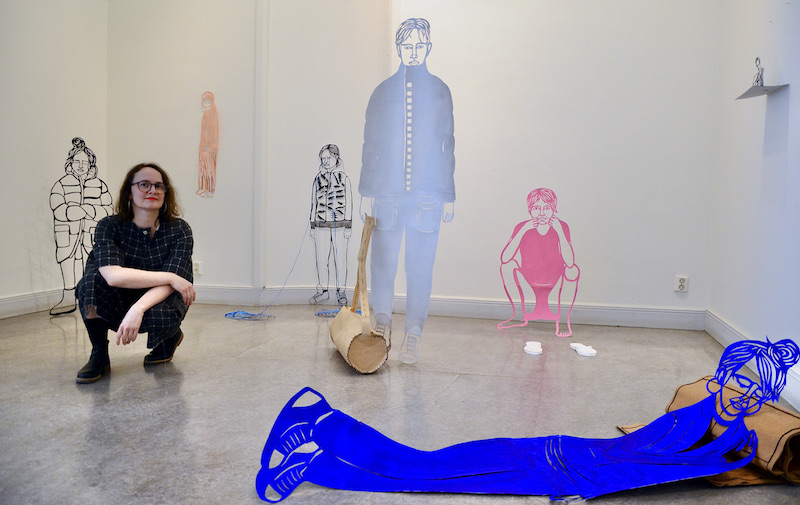 I went to the art academy in the Netherlands and graduated in 2004. During my final year I became interested in printmaking; finally I found my way of expression. I love printmaking with its clear lines and strong shapes and the fact that once you've start making the drawing on a plate or a stone there is no way back. I like the framework you have to work within. You think you have control by following all the steps, until your plate is under the press and then anything can happen. I love the process of printmaking but in the end it is not the technique that counts but the story you want to tell and share with others.
My work tells the story of the human being as a traveler; wanderers who try to find their place in this world. This story is the red thread within my artistic work. I can relate to the wanderers in my work; I moved to Stockholm in 2013 and built a new life. But is this a final place? Or is home a place you could build anywhere in the world? Could home be a place somewhere in the jungle or on a tiny island with a totally different way of life and culture? These are questions I asked myself within my work.
A couple of years ago I became aquatinted with the Waldorf pedagogy and I decided to go back to university to become a Waldorf teacher. The past 5 years I have been combining my studies and artistic work and they have grown closer together. My works as a Waldorf teacher has given me the opportunity to give the story I want to tell more depth and more sense in a way. This story is expressed in my printmaking work; it binds together my etchings, lithography's and currently, my life size paper figures.